Across The Great Divide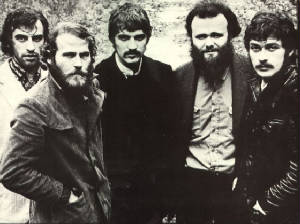 The music has been called Americana, the band has been called "The Great American Band", the irony behind both of these statements is this, three-quarters of The Band are and were Canadian, the only American in the band was Levon Helm, this irony continues with another, so-called "All American band", the Buffalo Springfield, where 3 out of the five original members were and are Canadian, Neil Young being the most well known, of course. In the end though, it's the music that is the voice here, and every one of the original albums has at least one masterpiece on it. The two tracks we're featuring, on this page and on the Acadian Driftwood page, relate to a very shameful period in Canadian history, the expulsions of the Acadians from what is now Canada, Acadian Driftwood and Evangeline which can be found on the Northern Lights, Southern Cross and The Last Waltz albums respectively.
Evangeline
She stands on the banks of the mighty Mississippi
Alone in the pale moonlight
Waiting for a man, a riverboat gambler
Said that he'd return tonight

They used to waltz on the banks of the mighty Mississippi
Loving the whole night through
'Til the riverboat gambler went off to make a killing
And bring it on back to you.

Evangeline, Evangeline
Curses the soul of the Mississippi queen
That pulled her man away.

ayou Sam, from the South Lousianne
Had gambling in his veins
Evangeline, from the Maritimes
Was slowly going insane;

High on the top of Hickory Hill
She stands in the lightning and thunder
Down on the river the boat was a-sinking
She watched that queen go under
related internet links

his personal website

a live abum recorded in

London Ontario in the

fall of 2002 at the

London Public Library's

Wolf Performance Hall

a brand new website from

these two incredibly talented

people

Full page ad in the

September 2, 1972

issue of the music publication

Cash Box promoting the new

Original ad measures 10 x 14.